Latest games
Latest coding
Game Design: Requirements of 'Mixed Reality' with an unknown environment
Lately, you see a lot of blog posts and news about mixed reality. This reminded me that I wrote a
Read more.
Unity How To: Saving on the SD Card
Changelog 26.06.2019 Unity changed the API for calling java functions with return types. Changed ("getExternalFilesDirs", null) to ("getExternalFilesDirs", (object)null).
Read more.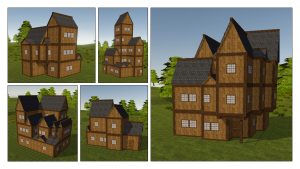 Procedural Building Generation
A short teaser about my bachelor thesis with the titel: Generierung und Evaluierung abwechslungsreicher Gebäudekomplexe (Generation and evaluation of diverse
Read more.